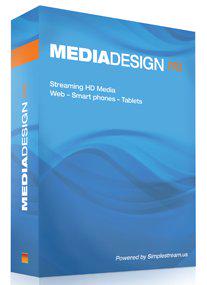 SUMMARY

MediaDesign Pro (MD Pro) – Create your media channel and monetize your media more than any other video service.
MediaDesign™ Pro, our proprietary Digital Media Management System (DMMS)™ launched in U.S.A. and Canada in 2009, is a 4GEN (built over 10+ years by our Scandinavian software development partners), HTML 5, Adobe Flash 10+, proprietary content management system (CMS).
Simplestream™ is improving the features and optimizing performance of MediaDesign™ by introducing in early 2017 MediaDesign Pro v.4.0 (BETA). Operate an HD quality streaming media network of channels or one channel over a powerful and secure global content delivery network (CDN). Stream videos, music, images, and documents.
Register to be one of the early adopters and considered for limited time case study opportunity. Learn more.
Special Features
MediaDesign™ offers simultaneous media extension encoding on one upload, built in pre-roll to aid monetization, built in analytics, tag and search, continuous play when switching for normal mode to full screen (no start over playback), virtually no limits on number of media stored or distributed and more hard drive space and bandwidth than our competitors.
SCREENSHOTS